FREEPORT HIGH SCHOOL PROM LIMO SERVICE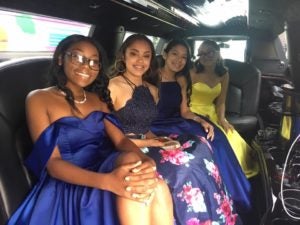 Freeport High School proms are one of the best for us to work with.
LIMOUSINE IN FREEPORT HIGH SCHOOL PROM
K & G Limousine is the preferred company for Freeport High School in Long Island.
Limo Service in Freeport ,New York
You are looking at the right place for limousine for your prom.  Proms are the events that happen once in a lifetime and it is the conclusion of a great and last high school year.
Limousine for School in Freeport
Our professionally trained drivers will take you to your prom.  Reserve a Freeport prom limousine with K & G Limousine.  We are one of the best limousine companies for Freeport.  You can call us at 516-437-3826 or e-mail us at info@kglimo.com
FREEPORT HIGH SCHOOL LIMOUSINE FOR YOUR PROM
Freeport High School students shouldn't stress about their prom plans.  We have serviced this area and have given the best prom limousine prices.  K and G Limousine serves Freeport High School for proms in the best manner.  Proms can come at a great price in Freeport High School.  Contact us now to book your limousine for your Freeport High School prom.
Why Choose Us?
Available 24/7
Smoother Rides
Seamless Booking
Drivers ALWAYS Early
World Class Customer Service