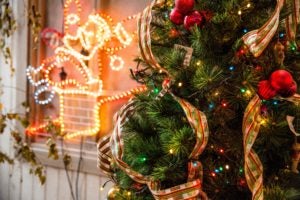 CHRISTMAS IN NYC | HOLIDAY LIGHTS LIMO TOUR
There is nothing more beautiful than spending Christmas in New York City.  This is the time of year that New York gets filled with tourists.  Families trying to enjoy a great time and enjoy the beautiful view of Christmas time.  These are timeless traditions of Christmas in the Big Apple! Ice skating in Central Park, viewing window displays along 5th Avenue and watching the Rockettes at Radio City Music Hall are just a few reasons why we love NYC during the holidays.  All of these things can be accessible with your own chauffeur.  K and G Limousine knows New York well and we can let you know how you can enjoy a wonderful time.
Wollman Rink in Central Park
Make the best of New York City and enjoy ice skating at Wollman Rink in Central Park (on the east side between 62nd and 63rd street).
Empire State Building
At the center of New York City we have the Empire State Building.  During the holiday season the building is lit up with red and green lights to celebrate Christmas.  This also coincides with the opening of the Radio City Christmas Spectacular.
Radio City Christmas Spectacular
Speaking of the Radio City Christmas Spectacular, don't miss out on the Rockettes.  They have a wonderful show and if you have tickets we will be able to give you a ride.  The area is crowded with families excited to see this show. K and G Limousine has had a great experience with this show.  It is the most viewed showed and what people get excited to see each year.  Radio City is also New York's landmark.
Christmas holiday light limo tour
Rockefeller Center Christmas Tree
A block away from Radio City Music Hall we have the Rockefeller Center Christmas Tree.  There is a timeless tradition for everyone in New York and tourists.  The three is only 100 feet tall (30 meters tall).  This is what everyone wants to see.
5th Avenue Holiday Window Displays
Right next to the Rockefeller Center Christmas Tree we see the New York City Shopping Center, during the holidays the streets can be a nightmare with people traffic.  However, this can be easily redeeming with the holiday window displays.  Every year the biggest department stores in New York City create amazing displays for people to enjoy.  Macy's Herald Square and Saks Fifth avenue are people's favorites.
Gigantic Holiday Cheer
There are huge ornaments in display annually during the holidays at different location in New York City including Rockefeller Center (across the street from Radio City Music Hall) on 6th Avenue.
Union Square Holiday Market
Open every year from the end of November until to Christmas Eve, the Union Square Holiday Market is the perfect place to get unique handmade gifts for everyone on your list.  Union Square is a great place to find a holiday gift or souvenirs to remember New York City during Christmas.
Dyker heights Christmas Holiday lights tour
During the holidays, take a trip to Dyker Heights Christmas Holiday light tours in Brooklyn. Their annual holiday decorations is one of the most beautiful things to see during this season.   The local people living there will not say it is a competition however, you can tell they compete to see which is the best holiday house.
Call us 516-437-3826 , 516-437-3827  Email info@kglimo.com  Book your Christmas Holiday Light Limo Tour Now
Why Choose Us?
Available 24/7
Smoother Rides
Seamless Booking
Drivers ALWAYS Early
World Class Customer Service