New Years Eve Limousine Service in New York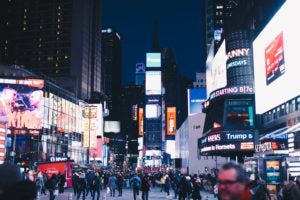 New Year's Eve in New York City
New Year's Eve is a great time in New York City, we are listing the limousine services we provide for a great time in New York during New Year's Eve.
NEW YEAR'S EVE IN TIMES SQUARE, NYC LIMOUSINE
New Year's Eve is a great time in NYC, everyone goes to Times Square to see the ball drop.  K and G Limousine's amongst our most frequent trips, we provide limousines everywhere around Times Square.  In NYC everyone from celebrities, tourists and others need a limousine around in Times Square, whether it is a booking at Olive Garden in Times Square, NYC or just to stand and watch the Times Square, NYC.  New York City is at the eyes of the world for the welcoming of the New Year.
NEW YORK CITY NEW YEAR'S EVE PARTY LIMOUSINE
Everyone plans a New Year's Eve Party and there's nothing better than getting a limousine to get their party around the greatest city in New York.  Get a limousine with all your friends and drive around the city, book an hourly service.  Get the best limousine company in New York City, which is K and G Limousine.  Pick anywhere you want in New York City and any club in any part and our limousine will be there.
NEW YORK CITY LIMOUSINE FOR NEW YEARS
K and G Limousine provides the best New York City Limousine for New Years.  If you want to book call us at 516-437-3826 or email us at info@kglimo.com.  Book your New York City Limo for your New Years celebration.  Welcome 2019 in the best way possible.
Why Choose Us?
Available 24/7
Smoother Rides
Seamless Booking
Drivers ALWAYS Early
World Class Customer Service